Sizes 85 ml/100 ml/175 ml/200 ml
The improved Original formula has the same high performing protection but has been ecologically improved to only contain ingredients not known to be harmful for the coral reefs and marine environment – Respecting Ocean Life. The new formulation has also been AllergyCertified – minimizing the risk of developing allergies.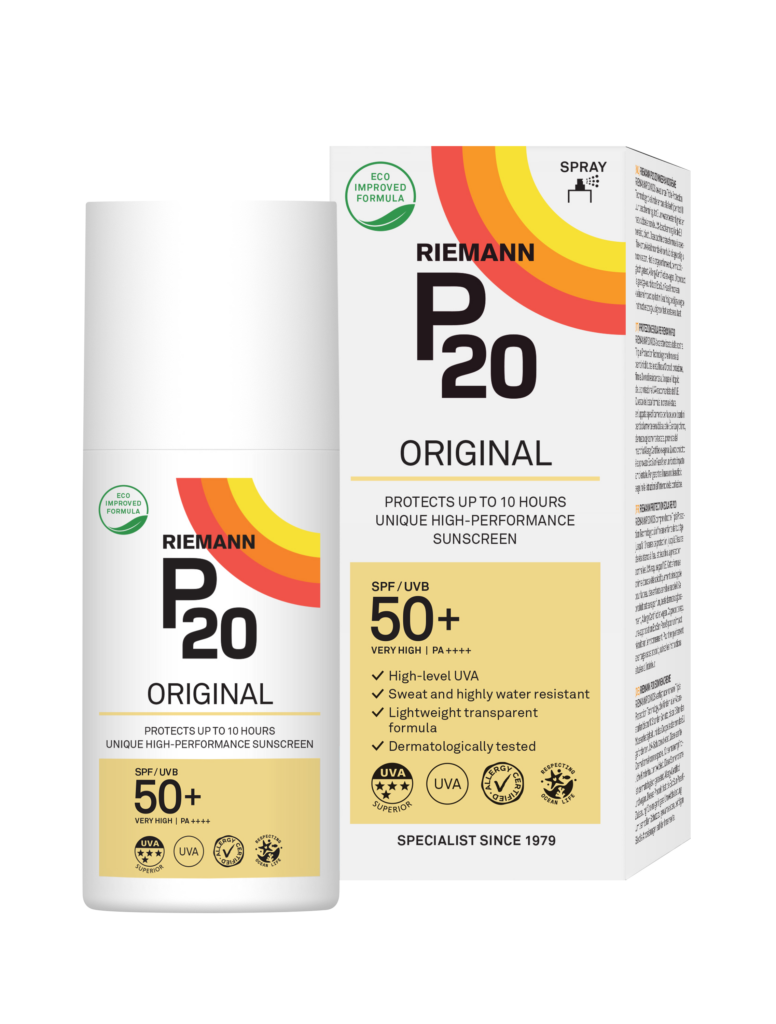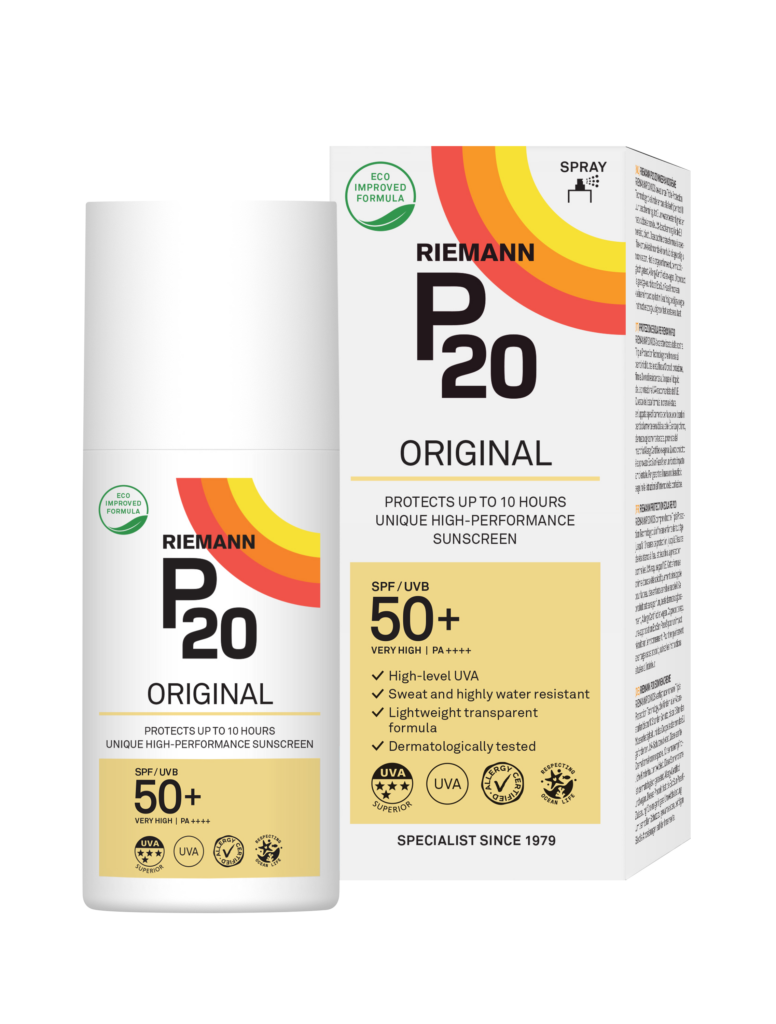 Riemann P20 Original Spray SPF 50+ features our Triple Protection Technology that provides up to 10 hours of protection, high water resistance and exceeds EU's required level of UVA protection. A lightweight, transparent spray that is easy to apply, fast-drying and sweat resistant. Riemann P20 Original is dermatologically tested, AllergyCertified, fragrance free and vegan.
A sunscreen for those who require high-performance protection.
UVB/SPF 50+ / Very high protection  –  UVA-PF above 30
Formulated without: Fragrance, Homosalate, Octocrylene
Protects up to 10 hours
High durability for long-lasting protection
Highly water resistant
Protects up to 80 minutes in water (4×20 minutes)
High-level UVA protection
5-star UVA rating and a UVA protection factor above 30 helps prevent skin damage
Broad-spectrum protection
Protects against both UVA and UVB
Sweat resistant
Keeps you protected even in the most extreme situations
Dermatologically tested
An extra layer of safety and certainty
Respecting Ocean Life
Formulated without UV-filters that are known to be harmful to ocean life
AllergyCertified
Ingredients carefully selected and screened for potential allergens and endocrine disruptors
Easy to apply
A lightweight transparent and fast-drying formula that is easy to apply for optimal usage
Certified Vegan
Formulated without any animal-derived ingredients
Sweat and highly water resistant
Our formulation has been developed and tested to be both sweat and highly water resistant.
It is important to note that these two claims are not as a result of the same test.  Water resistance refers to water entering the skin from outside, and sweat resistance is a force from within, indicating two very different scenarios. However, our unique formulation gives you protection against both, ensuring you are protected on humid days and during sweaty workouts.
Riemann P20 Original Spray SPF 50+ is the ideal protection for water and sun adventures
Respecting the ocean and protecting the skin
Riemann P20 Original Spray SPF 50+ has been reformulated to reduce the environmental impact and minimize the risk of developing allergies. It has therefore been formulated without ingredients that are known to be harmful to the environment – Respecting Ocean Life. It is also AllergyCertified and has been tested for allergens, impurities, carcinogens and endocrine-disrupting ingredients to minimize the risk of developing allergies. 
Riemann P20 Original Spray SPF 50+ is the ideal sun protection for your outdoor adventures – respecting the environment and your skin, while still providing high-performance sun protection
Always remember to apply liberally to the entire body. It is recommended to use at least 40ml of sun protection per application to deliver the optimal protection. Applying too little sun protection will significantly reduce the level of protection. Always reapply after excessive sweating or towel drying. Don't stay too long in the sun and make sure to take breaks from the sun. Remember to let the product absorb and dry before going out into the sun.
Because enjoying life, should be the only thing on your mind
Whether at work or at play, spending time outdoors feels great and can be good for you – as long as you protect yourself. In addition to using sunscreen, always take these simple precautions when you spend time in the sun.   
1 SEEK SHADE BETWEEN 11 AM AND 3 PM
Stay out of the sun between the hours of 11am and 3pm when the intensity of the sun's rays is strongest. Do not stay in the sun too long even when using sun protection. Remember that sand, water and snow reflects and amplifies the UV rays from the sun.
2 WEAR LIGHT CLOTHING AND SUNGLASSES
You can protect yourself with light clothing, a wide brimmed hat and sunglasses.
3 USE ENOUGH SUNSCREEN
Always remember to apply enough sunscreen to achieve the protection stated on the product. An adult should use appr. 30-40 ml or a good handful for a full body coverage and about 20 ml for a child. It fits fairly well with a 100 ml sunscreen equivalent to 2-3 applications per adult. If you apply less sunscreen, the sun protection factor and protection will decrease significantly.
4 KEEP CHILDREN OUT OF DIRECT SUNLIGHT
Never expose babies and young children to direct sunlight. Children should have extra protection against the ultraviolet rays. Use sunscreens with high sun protection factors, light clothes and a sunhat. Good sun habits as a child can reduce the risk for sunburned skin, skin damages and skin cancer later in life.
5 LIMIT SUN EXPOSURE
Pay attention not to exceed sun exposure for longer than your skin type allows.
6 IF ALREADY BURNT, STAY OUT OF THE SUN
If you Are already burnt, stay out of the sun. Do not apply P20 to broken or sun-scorched skin.